Happy Monday Mavericks! Good luck on your benchmark tests! Busy week ahead. See Maverick Memo below and flyers with additional information about events this week at Andrada.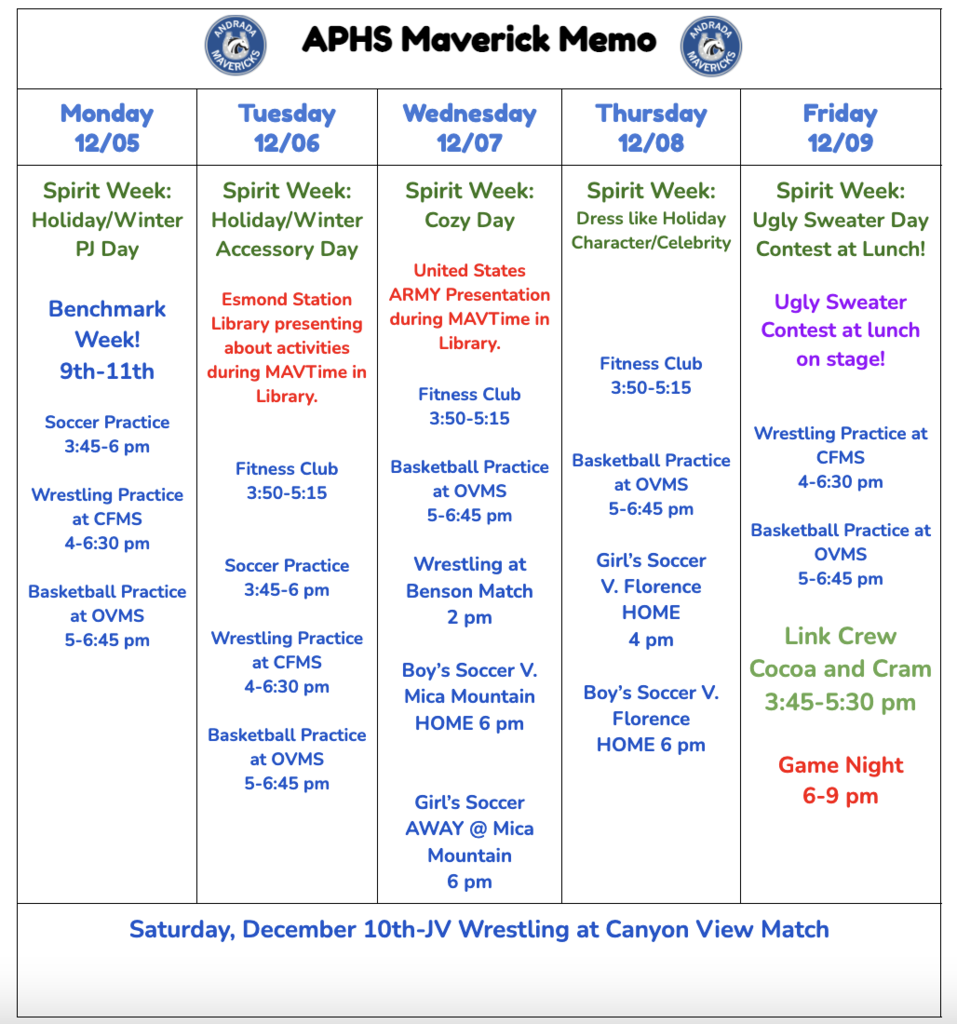 TRAFFIC ADVISORY! Intersection Improvement Valencia Road and Old Spanish Trail. Beginning Monday, December 5, construction will begin at the intersection of Valencia Road and Old Spanish Trail. Construction and electrical contractors will be widening lanes at this location and will be installing a new traffic signal. For those of you that travel in this area, the good news is all lanes of travel are expected to remain open to traffic; however, the speed limit will be reduced through the work zone to 35 MPH during work hours only. Work on the first phase of the project consists of installing underground conduits and pole foundations. This is expected to last through the end of December 2022. The second phase of the project will begin in late January 2023, and will consist of adding turn lanes and the traffic signal installation. This entire project is expected to be completed by spring of 2023. As with all construction zones, please approach the area with caution, obey all traffic control devices, and watch for crews and equipment. Have a great and safe weekend everyone.

Andrada High School's first ever Basketball Game! Go Mavericks!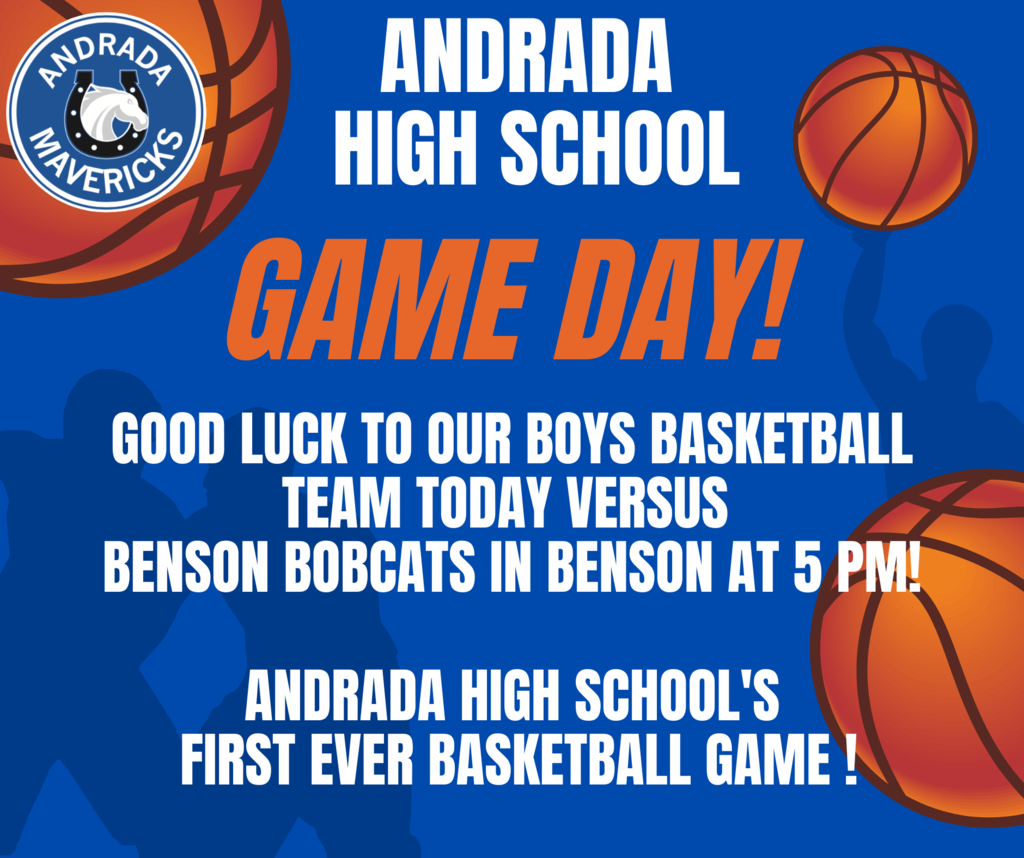 Good Morning Mavericks! Next week is our last Spirit Week of the Semester! Friday we will have an Ugly Sweater Contest at lunch!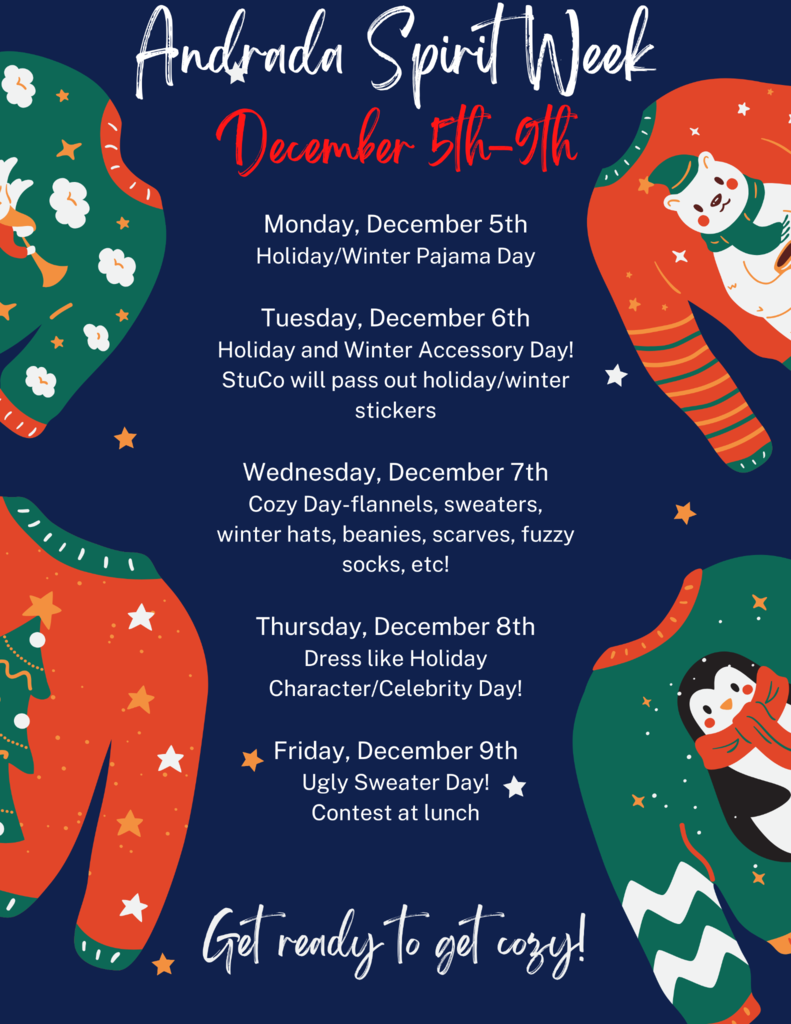 December, a month full of joy and excitement, is coming up! Check out the exciting activities that are about to happen not only at Andrada but in the wide Vail community. The fun awaits you! Check the attached flyers for information!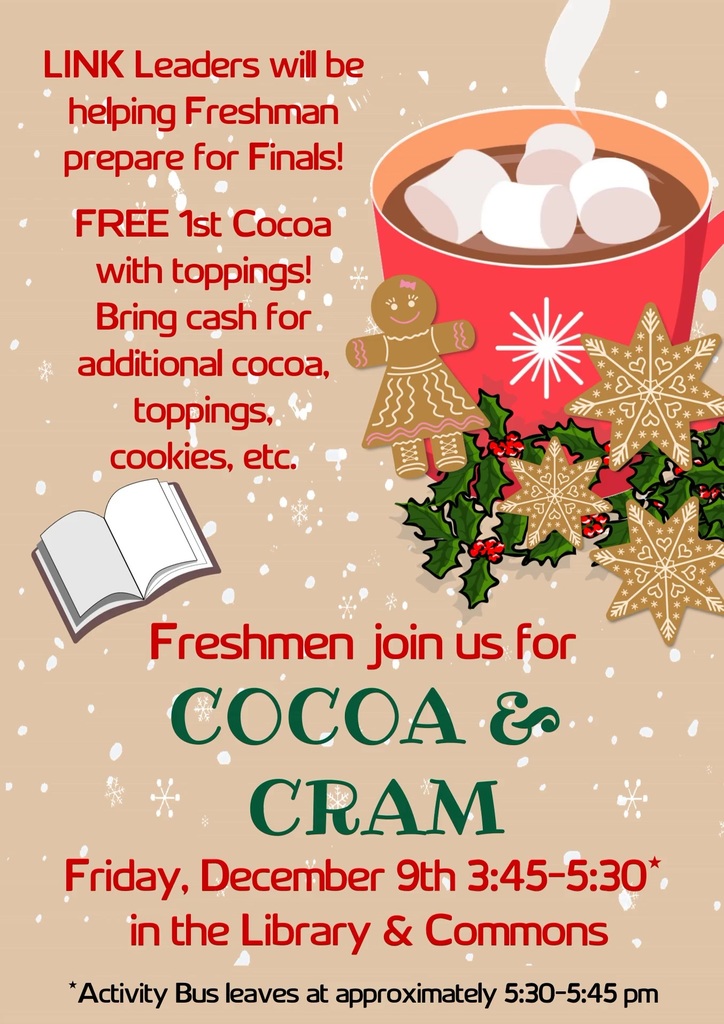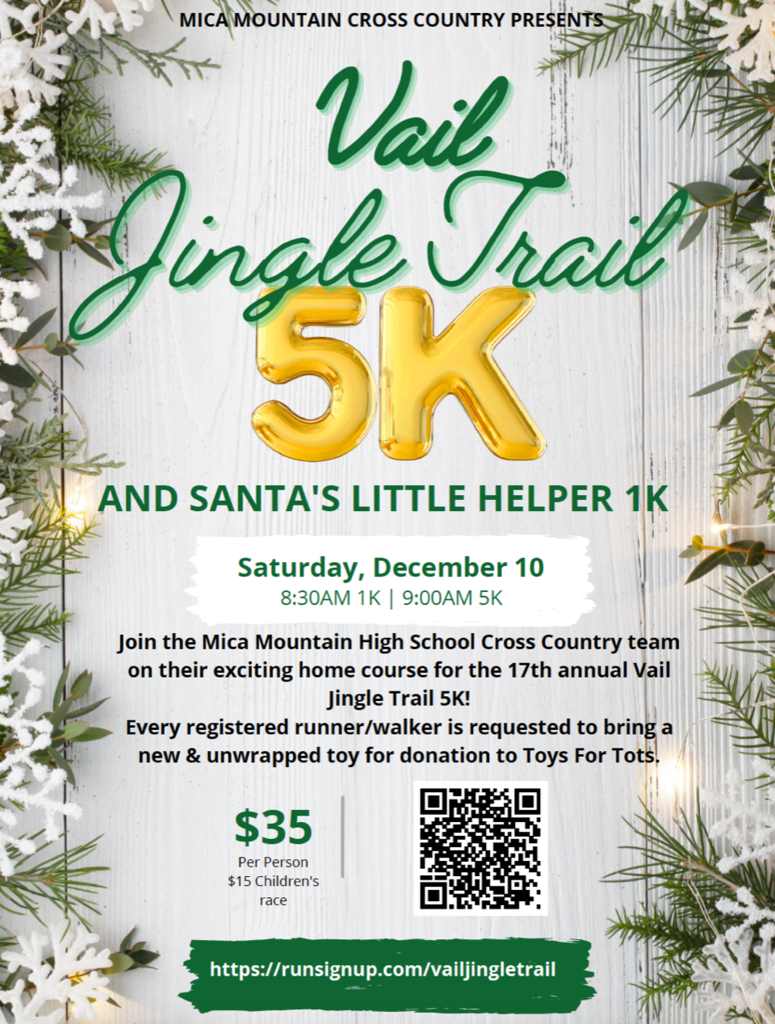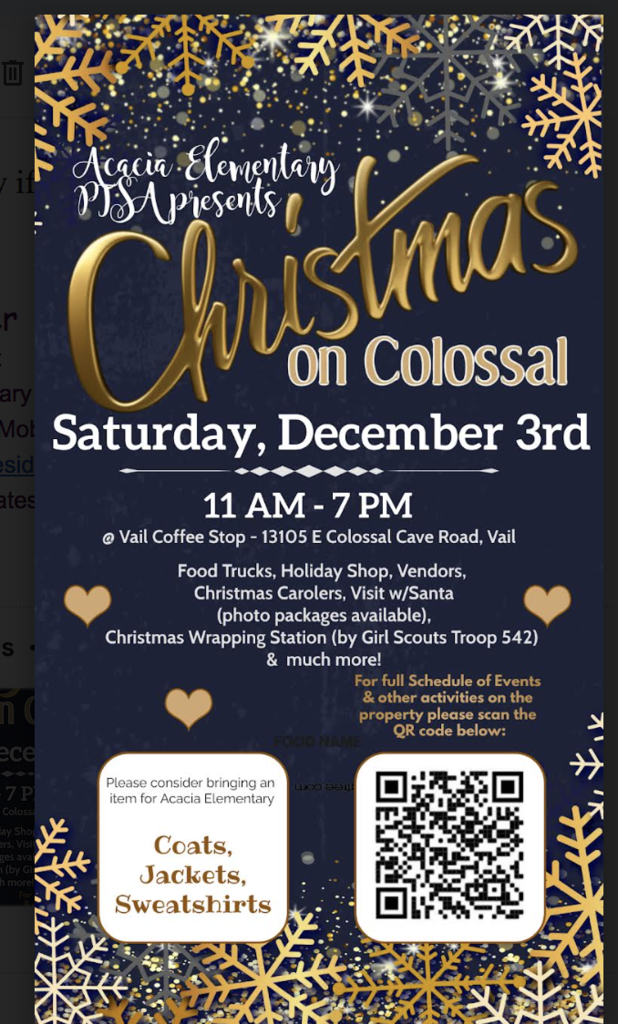 Happy Monday Mavericks! Here's our APHS Maverick Memo for the week of 11/21.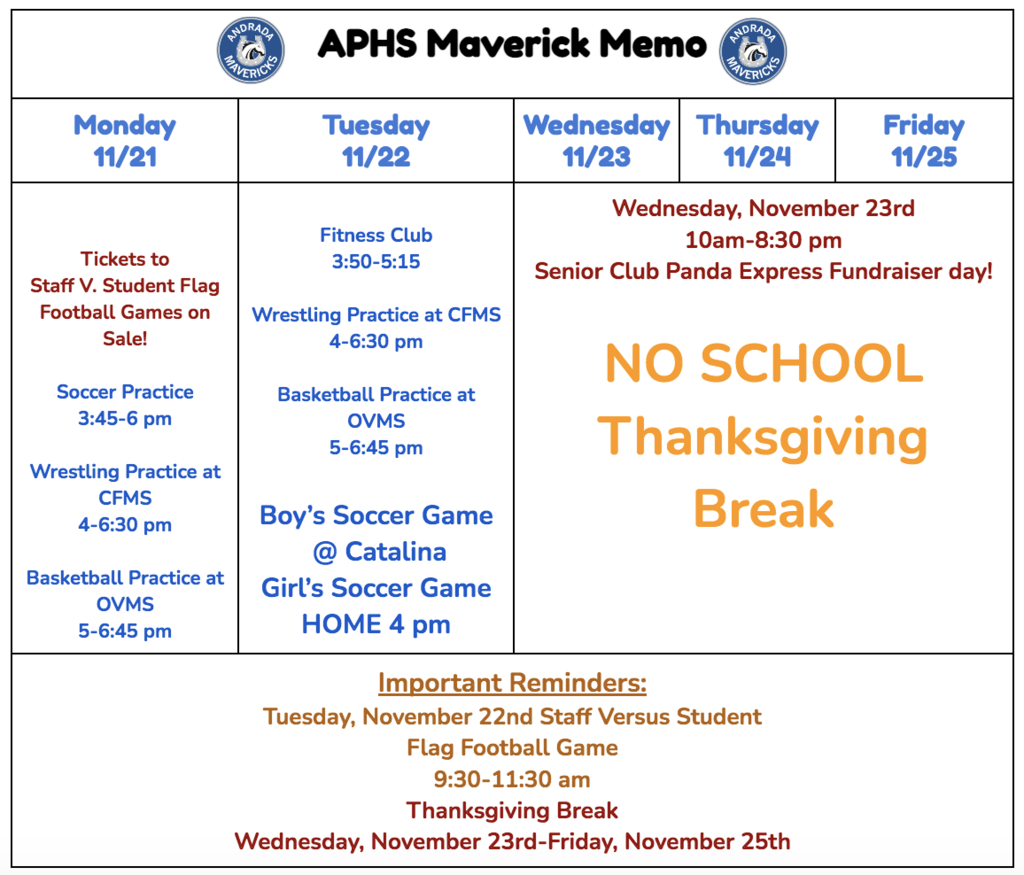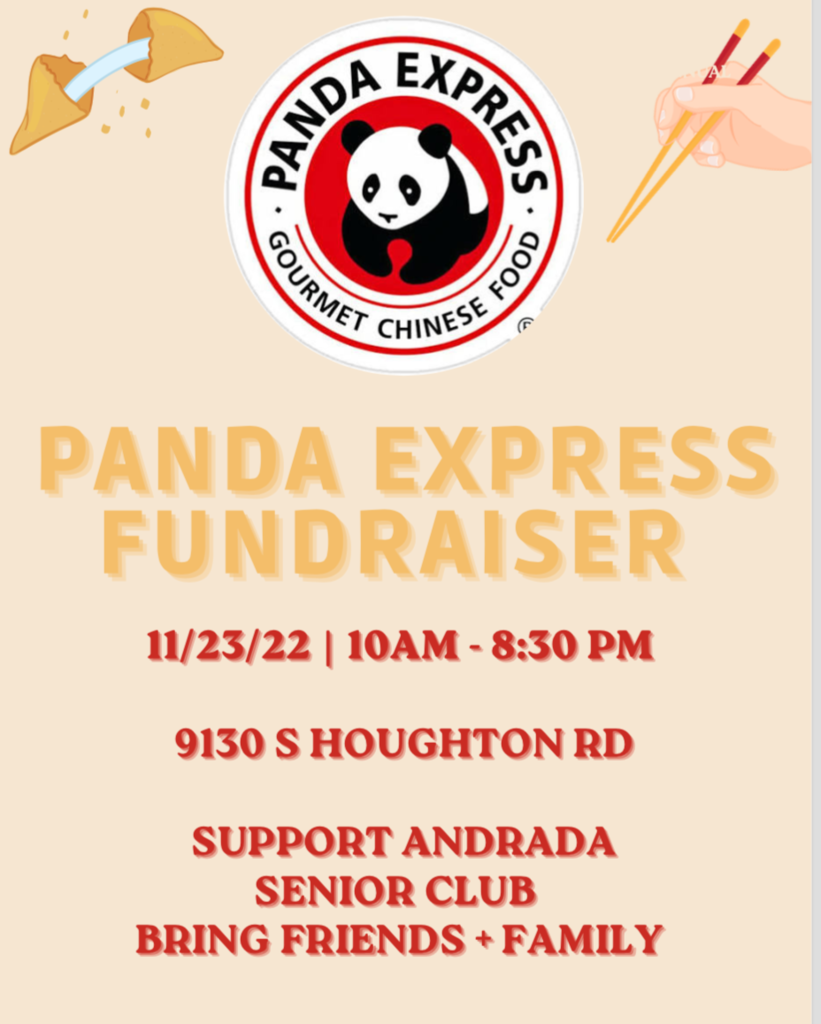 Hello Seniors, Monday we are all meeting in the commons for our FAFSA Frenzy! Any student who has completed their FAFSA by Monday morning will receive a raffle ticket for a prize! See the flyer below! (Also beautiful work on the flyer Willow! You are so talented!)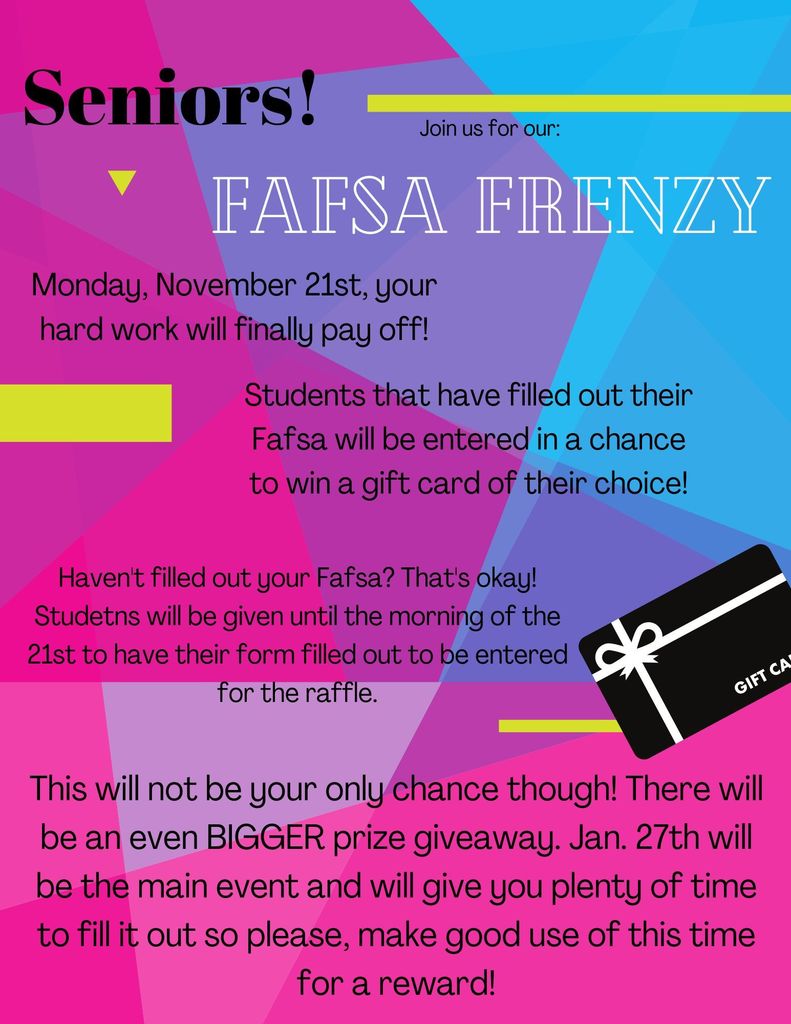 Happy Friday Mavericks! Tonight from 6-9 pm is Game Club's Smash Tournament! Last day to buy Grateful Grams is at lunch today, and don't forget to buy your ticket /donate canned food for Staff Versus Students Flag Football Games next Tuesday. NHS will be selling tickets on Monday at lunch. That will be the last day! If you would like to play on your grade levels Flag Football Team... Please sign up here...All are welcome!
https://forms.gle/KmRMqYWJobN5G9Jv9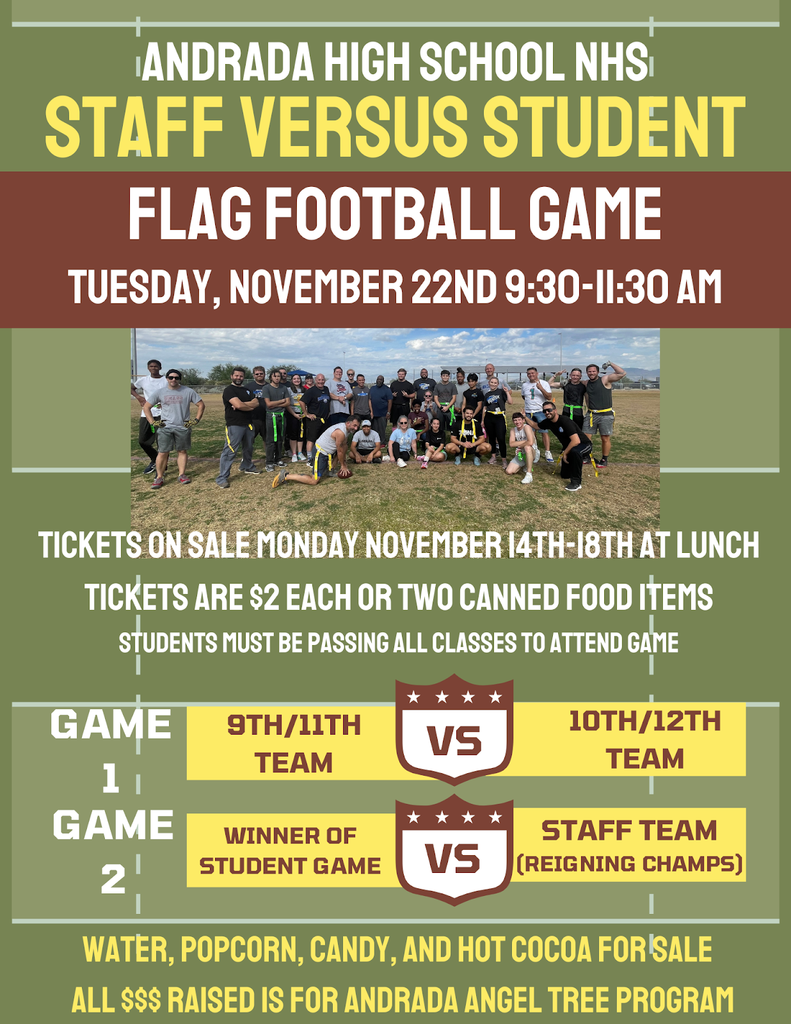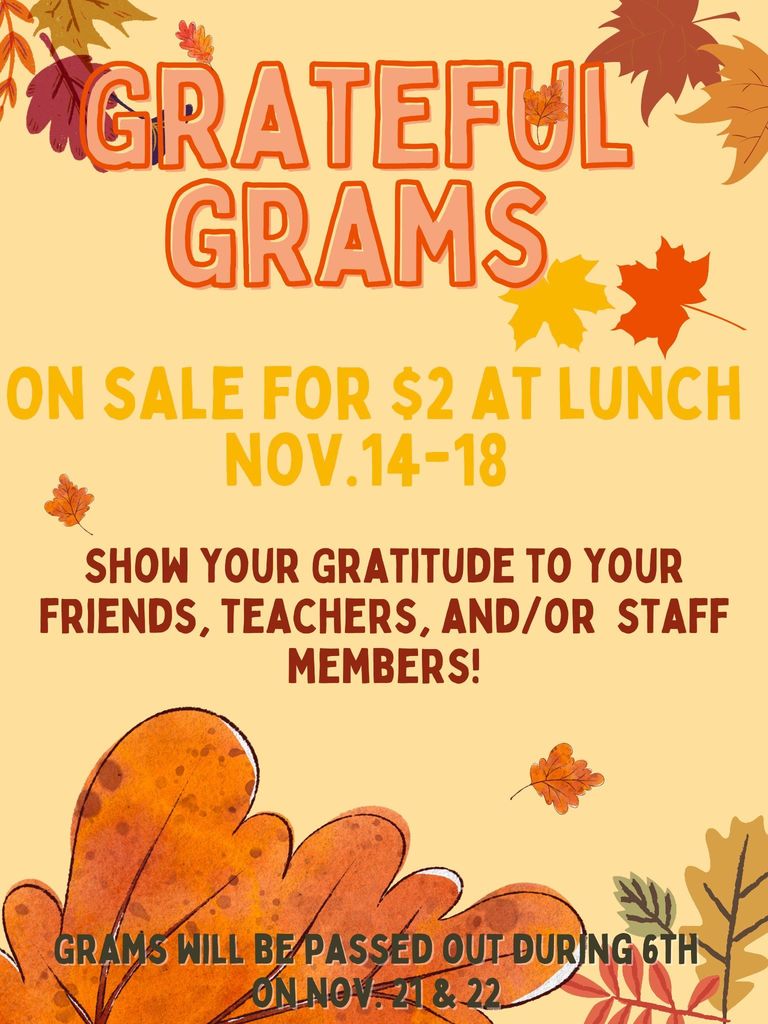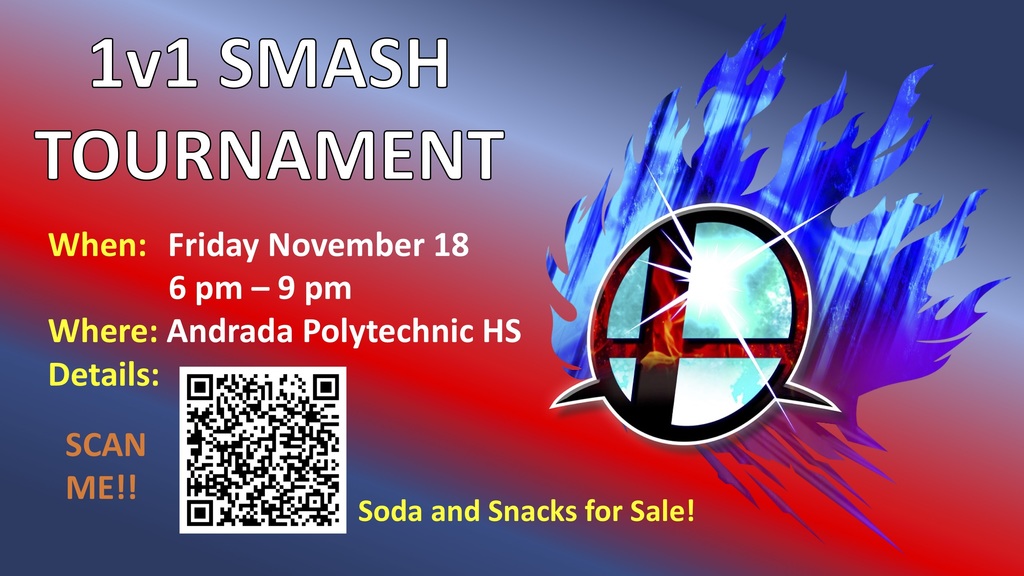 Good Afternoon, It is that time of the year for the annual El Tour de Tucson bicycling event. This is the 39th year for this well-known local event which will take place on Saturday, November 19, 2022, in several locations around the Tucson area. Some of the bicycle routes include roads in our Vail community, which could impact your travel plans. Over 7,000 cyclists are expected to participate in this renowned and popular event. Among the local roads that will be subject to closure include the following: Southbound Houghton Road, from Mary Ann Cleveland Way to Sahuarita Road, from 8:25 a.m. to 11:15 a.m. I-10 and Houghton Road intersection, from 8 a.m. to 11:30 a.m. The I-10 EB off-ramp will be closed The I-10 WB off ramp will be open but left turns are restricted The I-10 EB and WB on-ramps from SB Houghton will be closed NB Houghton Road will be closed between the I-10 EB and WB ramps The I-10 WB on-ramp from NB Houghton will be closed The I-10 EB on-ramp from NB Houghton will be open There will be detours for traffic around the closed ramps, with flaggers and detour signs in place to control traffic movement. After 11:30 a.m. all ramps will be open. For more specific and additional route information, please go to:
https://eltourdetucson.org/el-tour-de-tucson/route/
Safe travels everyone. - Jerry Brown, Director of Transportation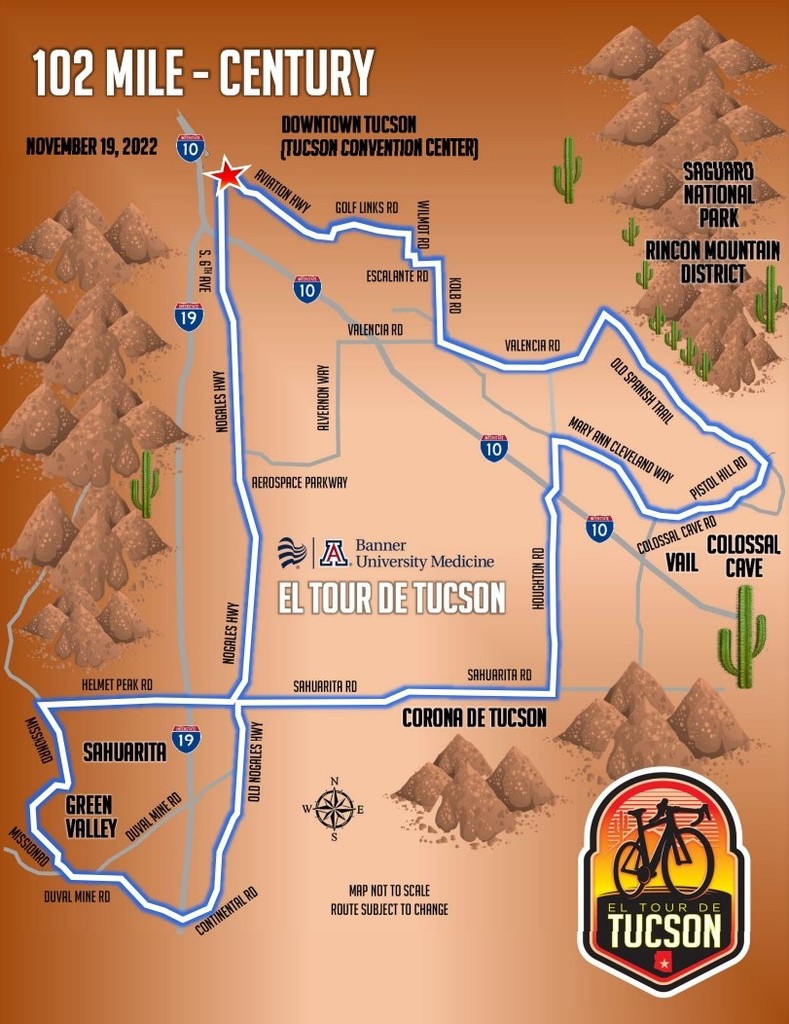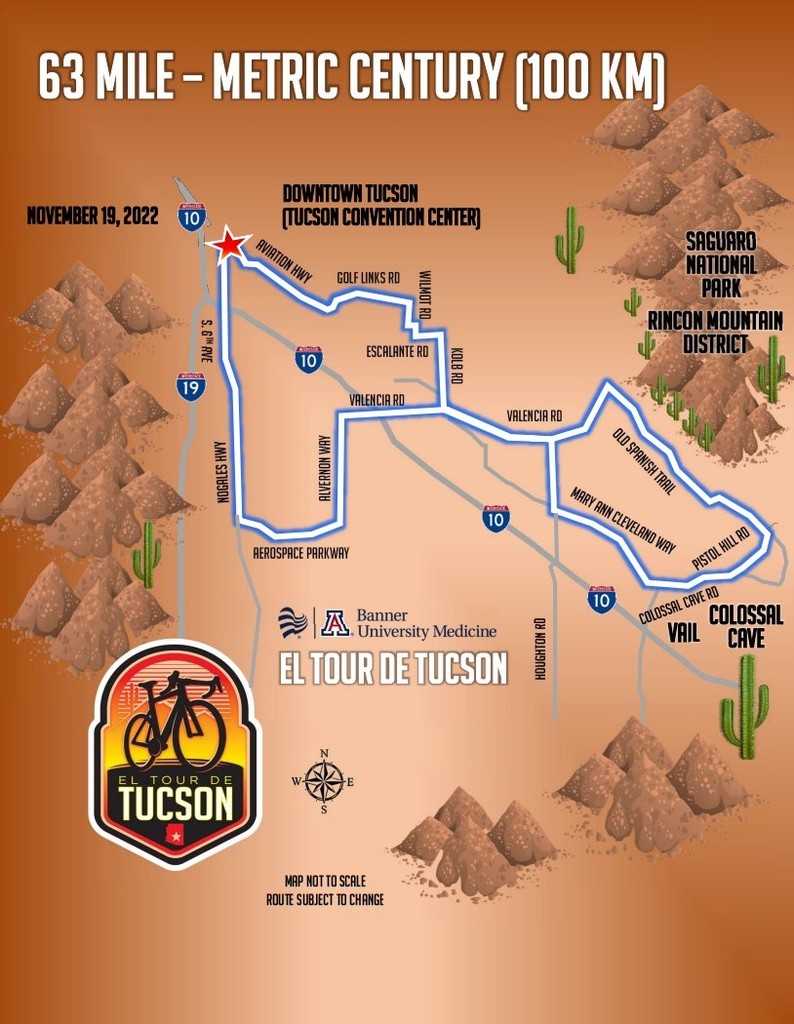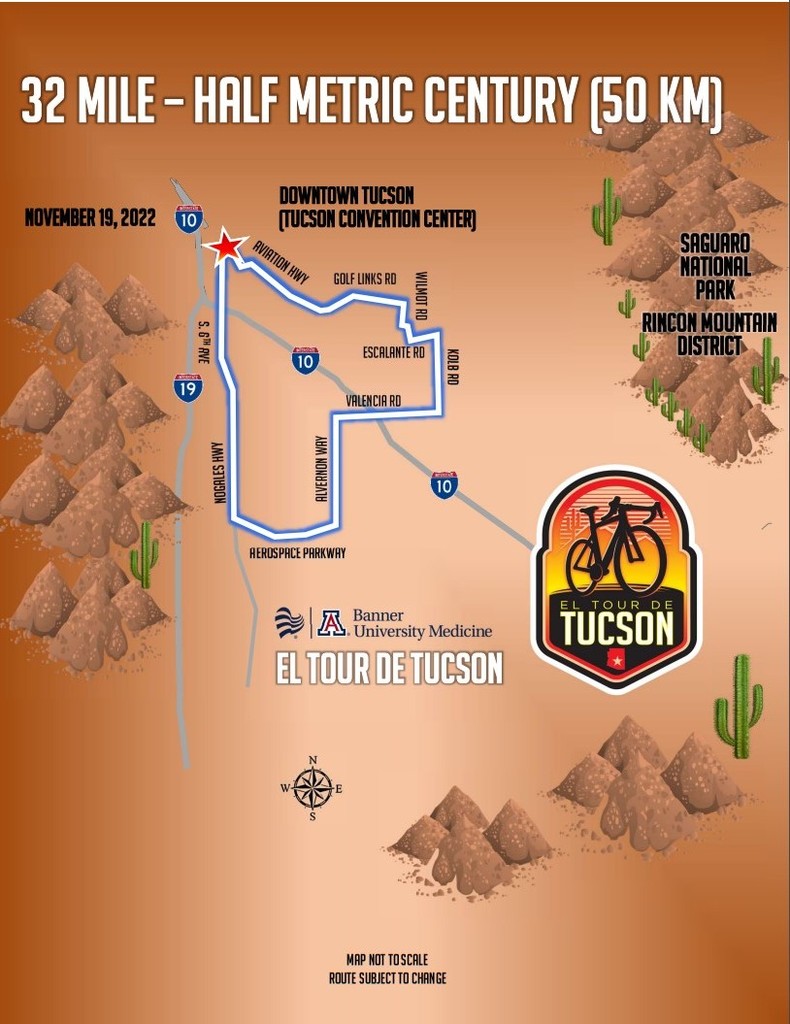 Happy Monday Mavericks! Some fall happenings this week. Tuesday and Friday of this week you can join Mrs. Wolfe in room 1225 during MAVTime for Fall Crafts. Grateful Grams go on sale today at lunch for $2!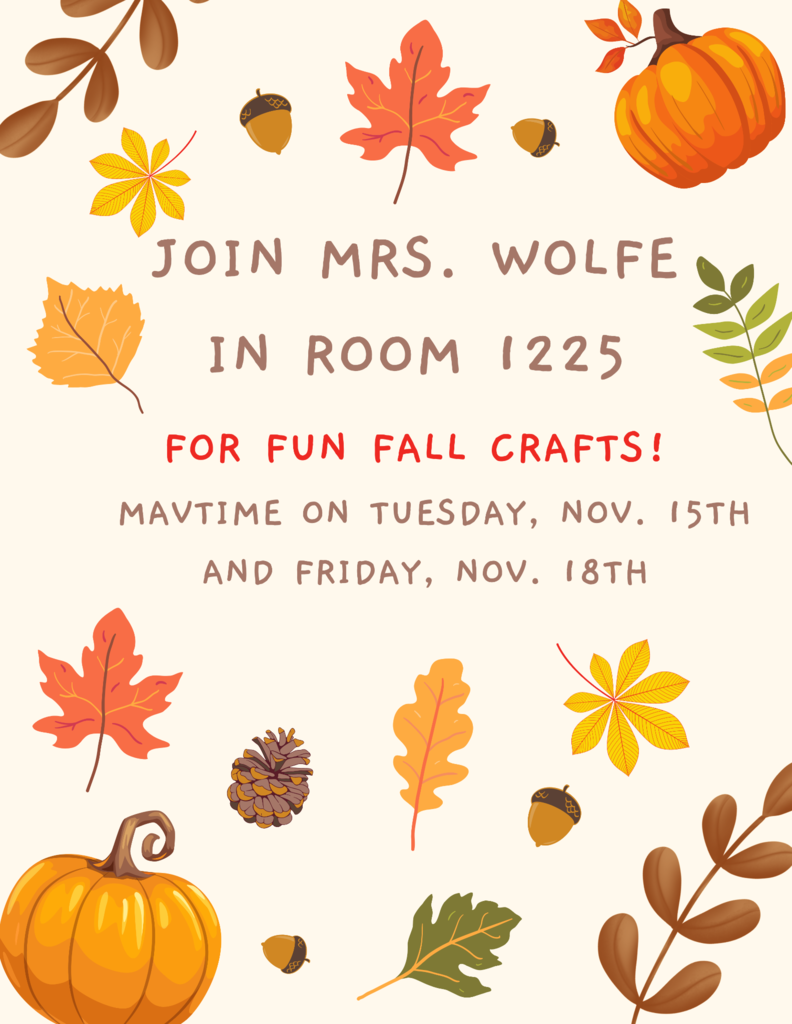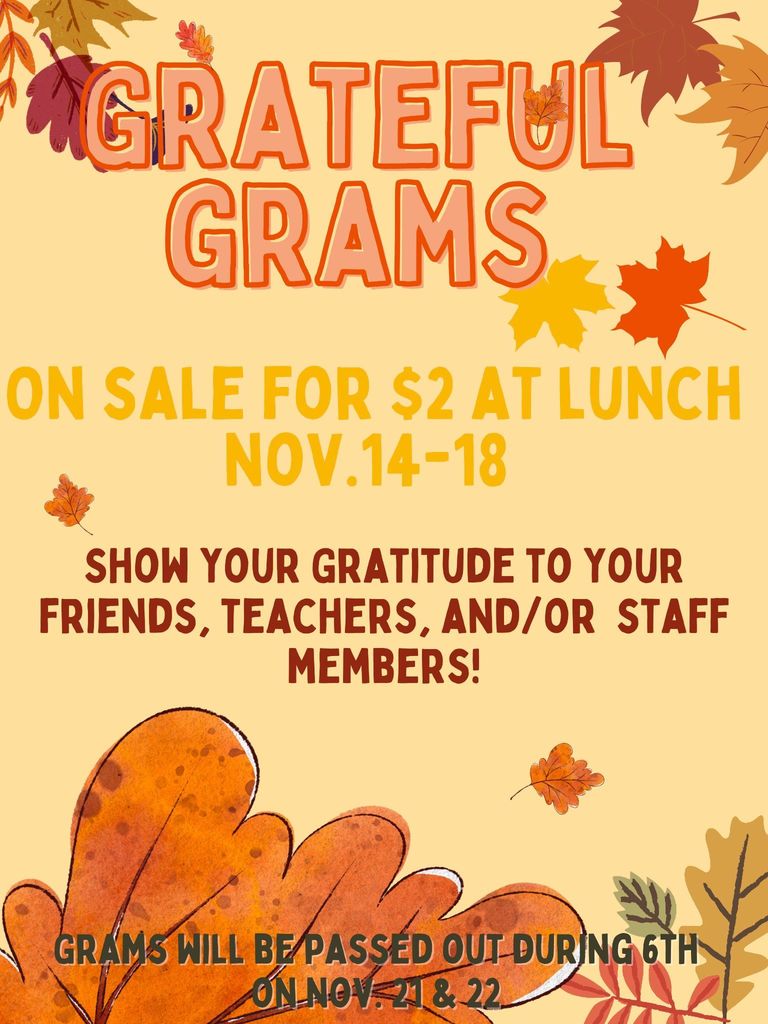 Good Morning Mavericks, If you are interested in playing in the annual NHS Staff V. Student Flag Football Game on November 22nd, fill out the form below. Students interested in playing will also need to see Mrs. Moore (room 2221) for a permission slip and must be passing all classes. Freshman and Juniors will make up a team to play against Sophomores and Seniors. The winning team will play staff! Sign up on the following link to play in Staff Versus Student Flag Football Game
https://docs.google.com/forms/d/e/1FAIpQLSfJAXQL7_SGF4VtNqzXocQK1kyAbf4PdOh-6bvd5qaxDOI_CQ/viewform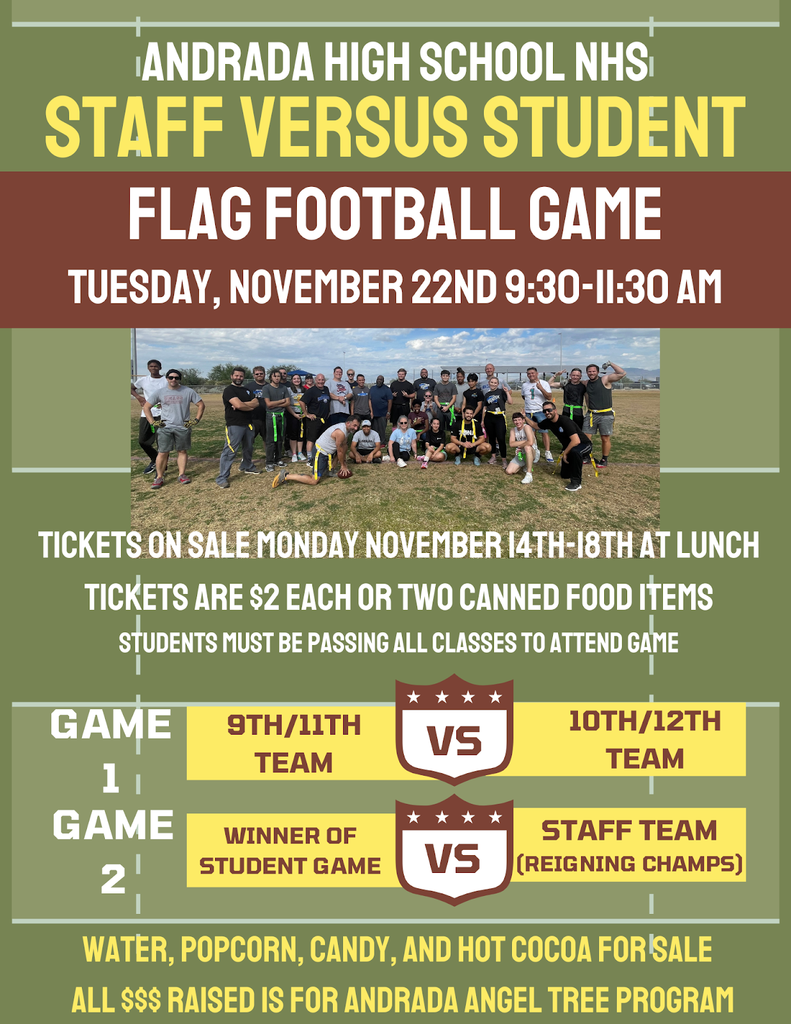 Good Morning Mavericks! See below for Maverick Memo for this week. Just a reminder, there's NO SCHOOL on Friday in observance of Veterans Day.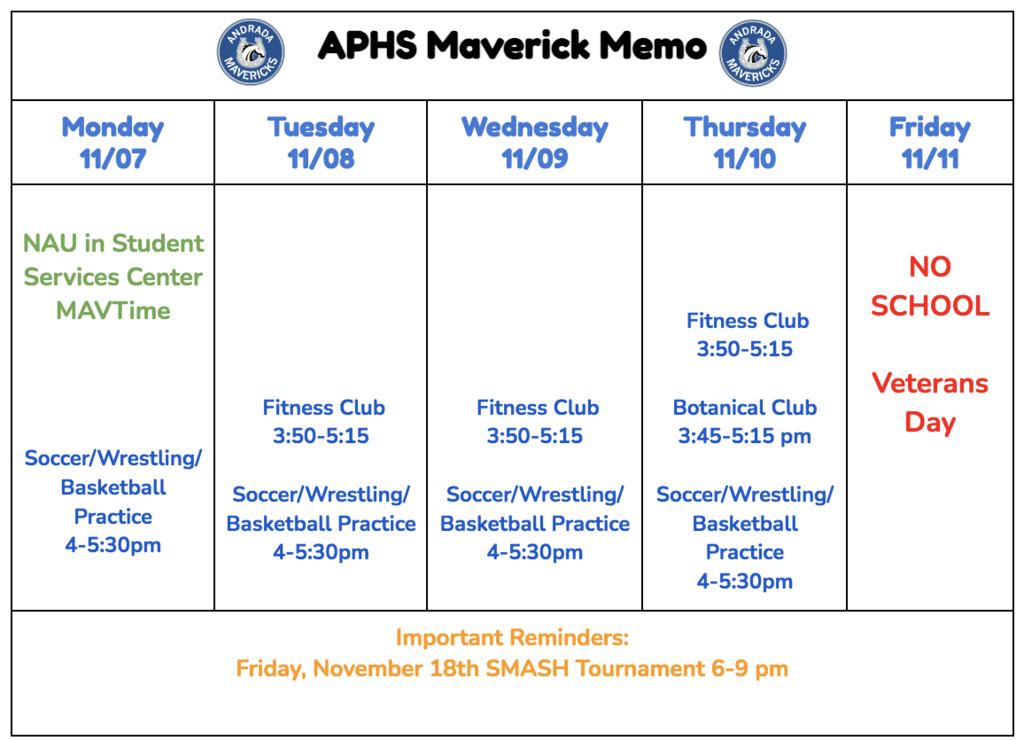 Here is the link for the live broadcast of the Vail Cross Country meet being held at Andrada. The meet starts at 4:30.
https://youtu.be/ZcsphEy9_OI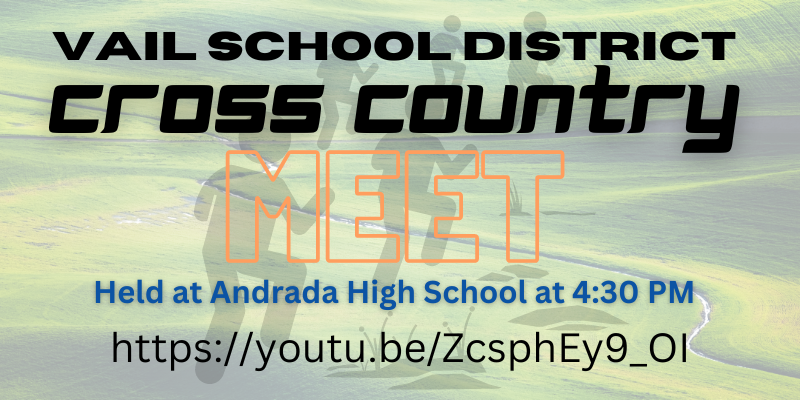 Good afternoon Mavericks, Parents, please don't forget to complete the Federal Impact Aid Survey by this Friday (October 28th). We have had 365 out of 653 student's parents complete the form. We really appreciate everyone who has taken the time to complete the survey. If you have yet to complete the survey, please go to the PowerSchool Parent Portal.
https://ps.vail.k12.az.us/public/home.html
Click on your student and click on Federal Impact Aid Survey in the lower left hand corner. Don't forget to click submit at the end of the quick survey. If you are having trouble remembering your password feel free to email me:
parksg@vailschooldistrict.org
and/or call 520-879-3302 and we will assist you to get access. Thank you all so much for completing the survey. GO MAVERICKS!!! Geoff Parks, Principal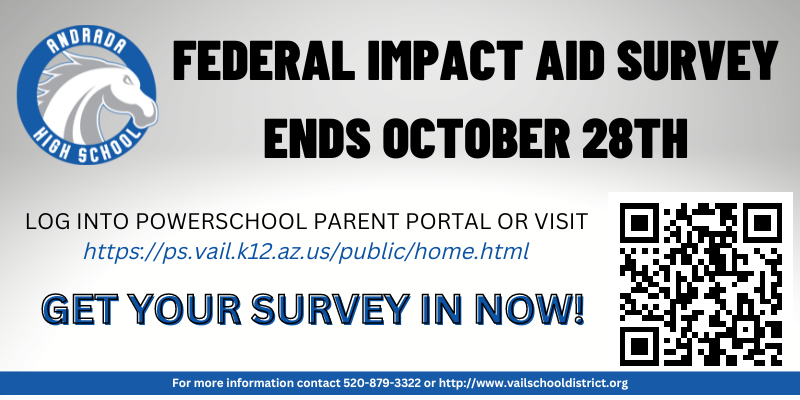 Good Morning Mavericks, I am writing to let you know that one of the Vail School District busses carrying Empire and Cienega High School students from Corona de Tucson was involved in an accident with three vehicles on the Houghton bridge this morning. All students on the bus, along with the bus driver, are safe and uninjured and first responders are currently on the scene to assist. One of the vehicles in the accident involved two Andrada High School students. Their parents have been notified. There may be traffic delays in the area. Law enforcement is requesting parents do not go to the scene. We will take care of any attendance issues that may arise due to this incident. Sincerely, Geoff Parks, Principal

Mavericks! Today, Tuesday October 25th Winter Sports Meetings! See below for details . Contact Mr. Carrier for more information if can't make meetings. Season begins October 31st. Boys/Girls-Wrestling MAVTime Room 1105 Boys/Girls- Soccer MAVTime Room 2105 Boys/Girls-Basketball 5:30 pm in Commons

Happy Monday Mavericks! Reminder this week is Spirit Week! Each day that you participate make sure to stop by the front office to get a treat from the prize bin!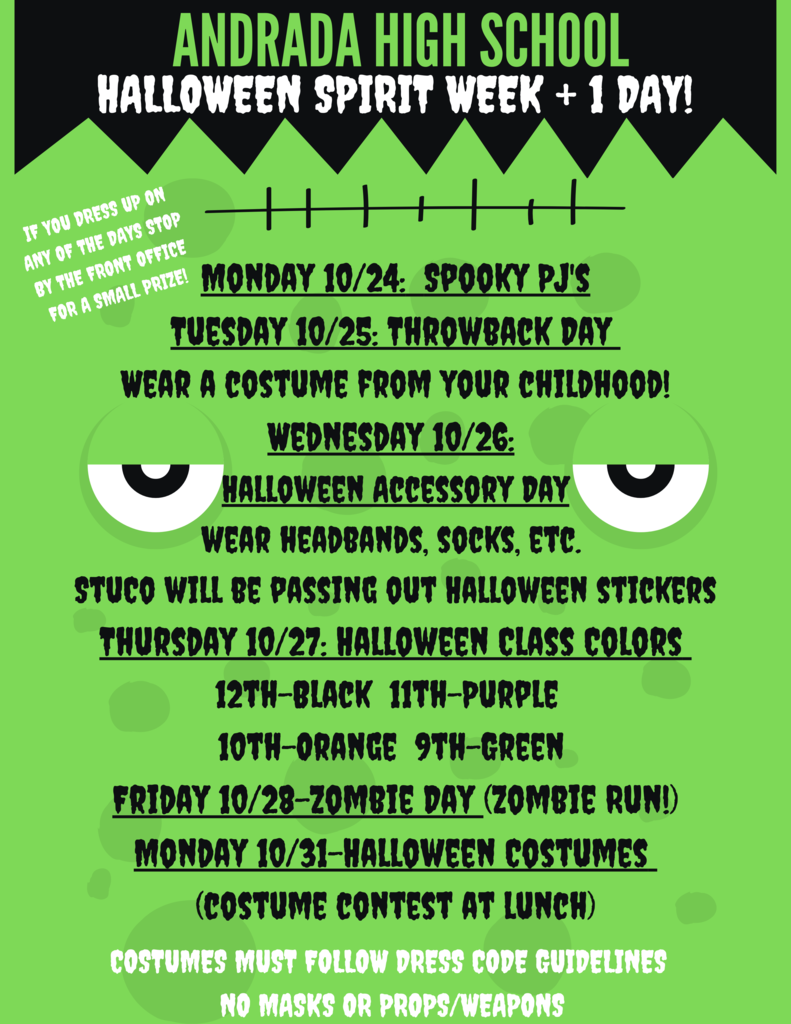 Good Morning, Here is the latest update regarding the Houghton Road widening project. If you drive this road for any reason, you will see how close this project is to completion. Next Tuesday, October 25, all northbound traffic will be switched to the newly constructed northbound lanes of Houghton Road, from the main entrance of the Pima County Fairgrounds, to just south of Brekke Road. One lane of travel will remain in place for both southbound and northbound traffic while crews continue construction activities. As with all road construction projects please approach the area with caution and obey all traffic control devices. The speed limit through the project area will remain at 35 mph. Have a great and safe weekend everybody. - Jerry Brown

Mavericks, Interested in helping at our Halloween Festival and Haunted House? See Mrs. Wolfe in room #1225!